European Youth Congress AYC – 22, Lahti, Finland.  
 Link înscrieri: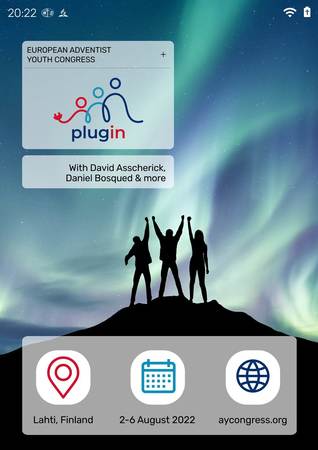 Join hundreds of youth from two Divisions (TED & EUD) in Lahti, Finland, for an amazing congress taking place from 2-6 August 2022. Although applications are not open yet, we have a form below that we ask you to fill in to register your interest.  As soon as bookings open for the BUC, we will send you all the information and pricing so you can be the first on the scene. We definitely don't want you to miss out!
Congress information at a glance:
Dates: 2-6 August, 2022
Location: Lahti, Finland – see map
Speakers – David Assherick & Daniel Bosqued
Congress costs: Includes fee, food & nearby classroom accommodation
Travel: participants will need to book their own flights to the nearest airport, Helsinki-Vantaa.  Details of onward bus/train/car options here.
Congress Price Structure and Registration
There are three main price bands for this Youth Congress:
Option A: Full Congress Package* €200
Option B: Congress and Food* €180
Option C: Congress Day Pass €25*
For children ages 6 to 12, options A and B have a 50% discount.
For children ages 0 to 5 the event is FREE. Bear in mind there is no alternative programme for children. They must be under the care and supervision of their parents at all times.
ACCOMMODATION:
School Classrooms – Floor space options are available in the Option A – full congress package price. Toilets and showers are on site.Participants will need to bring their sleeping bag and mat etc.. There will be a special section for families (husband, wife & children).
CATERING:
All meals will be provided on-site at the Koko Lahti Centre.
REGISTRATION:
The Congress website will indicate that each participant must contact their Home Union for registration.
Each of you can set your prices in accordance with other applicable prices you may have i.e travel package. The prices we have quoted are what we will charge you for each participant.
TRANSLATION:
The Congress Language is English. There will be the opportunity for you to provide translation for your delegates if necessary. You will need to assign the translators and let us know in advance their details (Name/Email) so that they can receive the transcripts of the main talks.
SMALL GROUPS:
Part of the programme will be small groups and for this participants will need to be assigned to groups according to their language abilities. Please ensure you gather the information on their level of English and also the languages they are fluent in, so that we can prepare accordingly
REGISTRATION FORM & SPREADSHEET:
Each Union has their own unique way of doing registration for events, so we are providing you with the registration form containing all the information we need from each participant and an excel spreadsheet.
Please put all of your delegates' information into your spreadsheet or set it up online in such a way that the information is downloaded as we request. Please do not change any of the formatting.
A separate password protected registration link will be available soon for volunteers/speakers & guests to complete.
HEALTH & SAFETY:
For this congress all participants will be required to wear a mask/face covering (unless they have an exception) and show a negative COVID test result on arrival. We are putting as many safety measures in place to prevent the spread of this virus as we possibly can, especially in relation to mealtimes and accommodation. It is important for everyone to be aware of the ongoing virus and have health insurance which covers any eventuality which could occur.
CONGRESS WEBSITE & NEWSLETTER:
Please share the link to the congress website www.aycongress.org on all possible platforms and encourage your young people to subscribe to the newsletter so they get all the info they need directly to their inbox.